I took a Yoga class!
If you have been following me anywhere this should not surprise you. I feel like I am constantly trying new fitness classes and trying to center myself.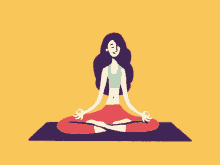 I am not sure why it took me so long to take a Yoga class; it's on the same level as mediation and wonder why it took me so long to actually do it. Like mediation I felt like you have to be in the right mindset to do. Yoga, like mediation, is not easy no matter how easy it looks.
It was the same weekend I took my first weight lifting class at my gym. I was so sore the next day. But my weekends regularly include working out on both Saturday and Sunday and I did not want to not move my body that Sunday. I knew Monday would be more painful if I did not move on Sunday but I also knew I was up for my normal Sunday morning routine (Cycle/HIIT) plus I was exhausted. There was a noon Yoga class, sold.
I was not a complete stranger to Yoga. Once a week I take a Pilates class which incorporates Yoga inspired moves. The class I was taking was a Gentle Yoga class which is aimed at beginners (raises hand) and those returning from a break.
Yoga slows you down. The class was over an hour long, which I did not understand until it was over. I spent quite a few minutes of the class just breathing. Learning to breathe. Being still. The movements were small but effective. It is much harder to be still and focus on what you're doing than it seems. It is so much harder than lifting heavy things.
I remember I was so angry at my husband walking into the class. It was raining. I was sore. I was just in a foul mood. I remember driving to the gym thinking I just wanted a few moments of quiet. A few moments to be with myself. Hashtag, mom problems.
When I walked out of the room 75 minutes later I was feeling so much better both physically and mentally. I realized that not only Yoga, but any workout, is a form of meditation. Instead of sitting in a chair, in a room, trying to focus on your breath you're actively trying to focus on what you're doing. You're in the moment. On a regular basis if I am in a group workout class and find my mind wandering (like meditation) I am forced myself back to what I'm doing. And I genuinely feel lost when I get back into what I'm doing. I'm wondering what the hell I missed in those seconds. I have found my mind is relatively clear during those 45-55 minute classes. I am not thinking about anything else during that time. I am not thinking about the drama at work; the loneliness I feel socially. I'm not thinking about this blog; the books that have to be read or the bills that need to be paid. It sounds shitty, but I'm not thinking about my husband or kids either. It's my time.
If you have never thought about a Yoga class you have probably not thought about meditation either but I would encourage either one, if not both. Like meditation, it's hard. You have to let go of how you look to others (even though no one else should be thinking about you let alone paying attention to what you're doing).
I have meditated at work, in my car and for awhile it was so hard because I was more worried about my co-workers walking by and wondering what the fuck I was doing. I have meditated at home, after work, and that's harder because while my husband is paying me no mind the kids can't help but ignore the headphones in my ears and closed eyes. It looks weird, I know.
Life can be long and is usually hard. With technology, we are constantly ON. We owe it to ourselves to take a proper break. To let the mind rest. To be with ourselves.
While I have yet to properly incorporate Yoga into my weekly routine as I would like. I know it is always there waiting for me when I need it.
JS.